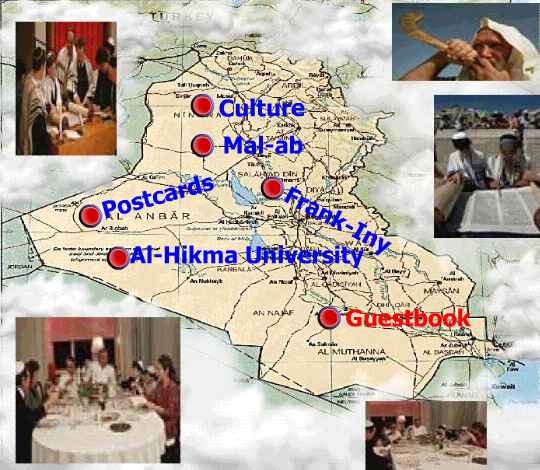 This site is dedicated to the Jews of Iraq who left Baghdad during the 1960's and 1970's.
We are dispersed all over the world: Israel, UK, USA, Canada, Holland, Australia, ...
This is the place to share memories and stories and to look for lost friends.
Tell us about what you've been doing during the past 40 years. Send us pictures.
We hope you'll make this site your home, the meeting place for all of us.
We thank everyone who sent us material and helped this site grow into what it is today.









1. Frank-Iny School Reunion Dinner - May 2002
2. Al-Hikma University Reunion - July 2002
3. Symposium on Iraqi Jews who left during the 60's and 70's - November 2002
4. Exhibtion at the Jewish Museum on Iraqi Jews who setlled in the UK - ends April 2003
5. Conference on Jewish refugees, Kahal Joseph Synagogue, Los Angeles - May 2003
6. Edwin Shuker visits Baghdad! - September 2003 - details in our guestbook
7. Conference - The Middle East's forgotten Jewish refugees, London - June 2003
8. Frank Iny School Reunion, Israel - July 2003
9. Frank Iny School Reunion, London - November 2003
10. Trip to Eilat with Iraqi Jews who left in 1970-71, Israel - December 2003
11. Frank Iny School Reunion, New York - July 2004- Pictures
12. Al-Hikma University Reunion, Boston - July 2004
13. Elections in Iraq - All of us can vote! - January 2005
14. Property Claims Submission deadline extended by two years! - details in our news section
15. Frank Iny School Reunion, Montreal - July 2005 - details in our news section
16. Al-Hikma University Reunion, Chicago - July 2006
17. Maurice Shohet at the ASF Leadership awards event, New York- Nov 2006- Pictures
18. Maurice Shohet meets President Bush, Washington D.C. - December 2007
19. Conference on Jews from Iraq, Tel-Aviv University, Israel - April 2008
20. Celebrating the heritage of the Jews of Iraq - London - June 2008
21. Founding meeting of the JJAC's International Council, London - June 2008
22. Establishment of the World Organization of Jews from Iraq, London - June 2008
23. Fourth International Congress for the Study of Babylonian Jewry, Israel - June 2008
24. Jews from Iraq speak at a European Parliament hearing, Brussels- July 2008
25. Interview with Sit Semha by Eli Timan
26. Escape from Iraq- Interview with Selman Dahud Sasson by Eli Timan
27. Ivy Vernon (nee Rabee) launches her book Baghdad Memories, London - Nov. 2008
28. Iraq's Last Jews -Study day with the book's authors, Israel - April 2009
29. Iraqi Jewish woman who left after 1968 gets her house in Bataween back - April 2009
30. Al-Hikma University Reunion, Detroit - July 2009
31. Our Guestbook is updated!!! New URL for comments from 2008-2009
32. Testimonies - New section
33. Video clips from everyday jewish life in Baghdad in the 1960's!Our news section- Oct 2009
34. Transcripts of records from Frank Iny/Shamash school 1971/1972!Our news section- Jan 2010
35. College of Engineering (Baghdad University) website- see our news section- Jan 2010
36. Event in honor of Sit Simha at Bar-Ilan University -Our news section- Feb 2010


Details of above events and others in our News Section






There are plans for periodical mini-Reunions in Israel
Join our mailing list so that we can update you with details when available.







New Guestbook - Comments from 2008-2010

Old Guestbook


Testimonies - Why we left Iraq

News


Books


Your Story


Genealogy


More than 30 years later - The Reunions


Frank-Iny & Shamash Schools


Al-Hikma University


Menahem Daniel School


History of Jewish Presence in Iraq


Mal-ab


Culture


Postcards and Reminiscences


Recent Events & Pictures


Edwin Shuker in Baghdad- September 2003


Join our Mailing List